PiG Sty Festival
The PiG Sty Festival will be held from 25-31 October and be a 24 hours a day event featuring a high level pro tournament, entertaining circus act show matches, and frivolous subathon-type shenanigans.
PiGFest Timer
Each $1 donation / 100 bits will add 20 seconds to the timer.
Each Tier 1/Prime (gift) sub adds 100 seconds, Tier 2 adds 200 seconds, Tier 3 adds 500 seconds.
The festival content such as donation goals and show matches will continue as long as the timer is still running (till the end of the tournament). The tournament will continue even if timer expires.
Incentives
Incentives can be activated more than once and in any order by every single donation.
10

Flick PiG's Ear

50

Slap Real Bacon On PiG

250

Smash An Egg On PiG's Head

500

Eat Kangaroo x 2 Drops Of The Last Dab (1M Scoville)

1500

1 Wax Strip On Arms Or Leg

2000

Get VIP Badge (You Can Still Lose This If You're A Douchebag)

2500

Slap Real Bacon Once For Every $100 Raised This PiGFest
(This Will Be Done At The End Of The Final Day)
Donation Goals and Show Matches
Note: Any unlocked goals that cannot be completed during PiGFest will be done at some point afterwards.
420

Show Match: Scarlett Holdout Challenge

(click for details)

500

Apartment Tour

600

Put On Roach PiG

700

Take A Shot Of Pickle Juice

800

Air Fryer 1: Meat Pie

900

Ear Lick ASMR

1000

Have Maynarde Co-Cast The Final Day

1100

Channel Artosis For 1 Game

1200

100 Roach Squats

1300

PiG vs Dot Slime Volleyball Bo7

1337

Tier List

1500

Drink Raw Egg

1750

3rd Place Group Players Earn $50 Prize Money

2000

Eat An Onion

2500

4th Place Group Players Earn $25 Prize Money

3000

Play Like Florencio For An Hour

3500

Cast One EPT Game In Full Ozzy Mode

4000

Air Fryer 2: Hot Wings

4500

Guess The MMR

5000

Show Match: Cheesedown Bo11 ft. Has And Bly

(click for details)

5500

Review 2011 Pig's Balance Whine

6000

Egg PiG Challenge (Like Battleships, But With An Egg Carton)

6500

Show Match: Hidden Name Tournament

(click for details)

6969

Dating Or Siblings

7500

Double Total Prize Pool To $4.6k
(1st = $1600, 2nd = $800, 3rd/4th = $400, 5th-8th = $200, 9th-12th = $100, 13th-16th = $50)

8000

Viewer Tournament (To Be Hosted After PiGFest)

8500

Air Fryer 3: New Epic Sandwich

9000

1 Hour PiG Roasts

10000

Show Match: Twitch Plays Gabe

(click for details)

11000

Reveal PiG's Bacon Slap Technique On Stream

12000

Hot Wings Challenge – Have To Eat One Wing After Each Loss (With 1M Scoville Hot Sauce)

13000

1 Hour Smurf Detective

14000

Show Match: Bounty Hunters ft. Astrea And Scarlett

(click for details)

15000

Triple Prize Pool To $6.9k
(1st = $2400, 2nd = $1200, 3rd/4th = $600, 5th-8th = $300, 9th-12th = $150, 13th-16th = $75)

16000

Play Age Of Empires 4

17000

PiG Makes His Favourite Dessert

17500

PiGGie Man Reviews: Make PiG Laugh

18000

Show Match: The Outsiders Tournament

(click for details)

19000

Unlock PiG Sty 2 With A $2k Prize Pool Pro Tournament

20000

PiG Can't Shave For 1 Month

21000

Archon Viewers vs PiG

22000

PiG Cuts Dot's Hair

23000

Quadruple Prize Pool To $9.2k
(1st = $3200, 2nd = $1600, 3rd/4th = $800, 5th-8th = $400, 9th-12th = $200, 13th-16th = $100)

24000

Show Match: Funny Mods

(click for details)

25000

Air Fryer 4: Things That Shouldn't Be Air-Fried Get Air Fried

26000

Up Total Prize Pool To $10k Total
(1st = $3300, 2nd = $1700, 3rd/4th = $850, 5th-8th = $450, 9th-12th = $250, 13th-16th = $125)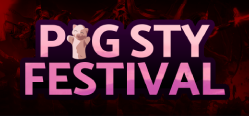 Announcement: tl.net forum post
Bracket: liquipedia.net
Stream: twitch.tv/x5_pig
Donations: PiG's donation page
Schedule: Google calendar