PiG Sty Festival 4.0
PiGFest 4.0 will be held from 20-24 September featuring a high level pro StarCraft 2 tournament as well as entertaining carnival show matches on two separate days (18 Sep and 27 Sep).
With the sad news of Blizzard no longer funding StarCraft 2 esports, we decided to host PiGFest 3.0 in March 2023 where an incredible $17,728.31 was raised. We capped that event at $10,000 which means PigFest 4.0 already kicks off with a $7,728.31 prize pool and counting! But we want to keep supporting the Pro scene so check out the raffle prizes, incentives and dono goals below.
Donate!
To raise funds we will be raffling off prizes, giving incentives plus putting up dono goals.

Donation link: https://streamlabs.com/x5_pig/tip

We will be contacting prize winners via email (if you pay via Paypal your email is automatically linked). If you pay by credit card you must provide an email address or Twitch username to allow us to contact you if you win.
Raffle Prizes
We're raffling off these prizes off to some lucky winners:
2 x PiGFest 4.0 mousepads signed by top pros
1 x Balance Whine shirt signed and balance whined by top pros
Incentives
| | |
| --- | --- |
| $5 | Every $5 dono earns you one raffle ticket |
| 10 | Slap PiG with real bacon |
| 20 | PiG drinks a shot of jalapeno pickle juice |
| 50 | Get 10 plus 1 bonus raffle tickets, plus Dot flicks PiG's ear |
| 69 | Wax PiG's arm or leg with 1 wax strip |
| 100 | Get 20 plus 3 bonus raffle tickets, plus Dot flick's PiG's head |
Donation Goals
Note: Any unlocked goals that cannot be completed during PiGFest will be done at some point afterwards.
| | |
| --- | --- |
| $69 | PiG does 1 hr of 1-Base Nydus Swarmhosts |
| 150 | Eat 2x !Spicy Korean Mouth-Torture Noodles |
| 250 | PiGFest 4.0 now at 8k prize pool! |
| 420 | PiG does 1 hr of Florencio Strats |
| 750 | Unlock Carnival Day 1: Pros vs Pros (!Carnival1) |
| 1000 | PiG does 1 hr of 1 vs 2 Ladder (2v2) |
| 1337 | Unlock Carnival Day 2: Pros play against/with Viewers (!Carnival2) |
| 1750 | Progamer Tier List |
| 2000 | PiGFest 4.0 now at $8.5k prize pool! |
| 2500 | !ViewerTournament |
| 3000 | PiGFest 4.0 now at $9k prize pool! |
| 3750 | !Psycho Serum Hot "Sauce" Challenge (6.4M Scoville!!!) |
| 4269 | PiGFest 4.0 now maxed at $10k prize pool! |
| 5500 | !NPC Stream |
| 6420 | Unlock next PiGFest! Everything above $6420 goes to PiGFest 5.0 + Showmatches |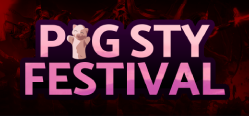 Announcement: tl.net forum post
Bracket: liquipedia.net
Stream: twitch.tv/x5_pig
Donations: PiG's donation page